Insect attractants – Magnet
Magnet is an insect attractant for the control of Helicoverpa spp. moths, developed by researchers at the University of New England, Armidale. Magnet is a blend of 6 plant volatiles and feeding stimulants that mimic the type of odours that moths use to find nectar rich flowers. Moths use nectar as an energy source to enable them move around the environment. Crop monocultures that are suitable hosts for Helicoverpa larvae are often not good sources of nectar.
The volatile blend in Magnet attracts moths to treated strips in the crop where the feeding stimulants cause them to feed on the Magnet deposits. These deposits contain a registered insecticide – added just prior to mixing – that kills feeding moths. Magnet provides moth control for 4 to 6 days and provides up to 95% reduction in moth numbers. This reduction in numbers results in a similar reduction in egg lay and subsequent larval numbers.
Magnet is best used on a pre-emptive schedule, as predicting moth activity and spikes in egg lay is difficult in practice. Used this way, Magnet provides cost effective ongoing suppression of Helicoverpa.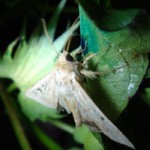 Benefits of Magnet
Targets the adult stage (moths)
Controls the pest before eggs are laid
Applied to less than 2% of the crop
Low environmental impact and low application cost
Kills a high proportion of moths in the treated area
70 to 90% reduction in egg numbers
Effective for 4 to 6 days – ongoing reduction in moth numbers
Area wide impact on pest pressure
Nil or negligible impact on beneficial species
Will not flare secondary pests and suitable for IPM systems
Further information